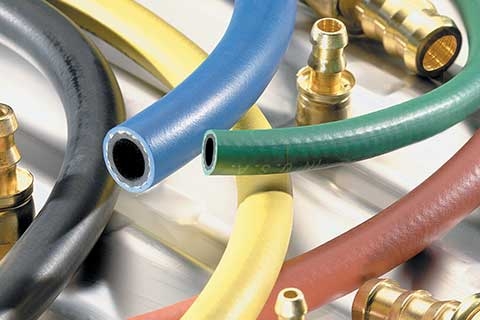 Kent Rubber Supply is a 3-A class approved sanitary hose assembler with one of the most complete lines of sanitary equipment available in the industry. With everything from sanitary hose, fittings, and valves to bulk hose, fittings, clamps, and so much more, we can provide you with everything you need to keep your business running steadily and profitably. Whether you are looking for specialized silicone for pharmaceutical applications or quality hose covers and assembly, we are constantly looking for new and better solutions for our customers' ever-changing demands, including specialized silicone pharmaceutical products and the most durable hose covers and assembly crimps for food and dairy plants. In addition to assembly size ranging from 0.5" to 6", and even offer 4" reusable Saint-Gobain hose fitting assemblies, saving you time and money by making it possible to replace the hose without having to pay to replace the most expensive part of the assembly. We have the sanitary hose and fittings you need to keep your business running smoothly, so call and let us know how we can assist you today!
Custom Hose, Die Cut Gaskets, and More
For more than 7 decades, Kent Rubber Supply has been providing companies throughout the area with the best custom molded rubber products you will find anywhere in the industry. From hoses and bumpers to seals, O-rings, and grommets, we can deliver the products you want, no matter what the end use is for or what the specifications might be. We are committed to meeting or exceeding customer expectations on every project we do, so call us and let us know how we can help you today.
Ask About Our Supply Chain Efficiency Program!
Kent Rubber Supply is your premier source for supply chain performance. Every product we supply for you can made to meet the original equipment manufacturer's requirements for both quality and reliable delivery. Our ability to manage several of your SKUs, allowing us to keep them in stock, deliver them when your production demand requires it, and even package or kit them to keep shipping costs under control. In addition to our expansive in-house capabilities, we also have alliances, both domestic and global alliances that help us bring you the premium products you need at prices you can afford. We are eager to get to work with you, so contact us and let us know how we can help your business today!