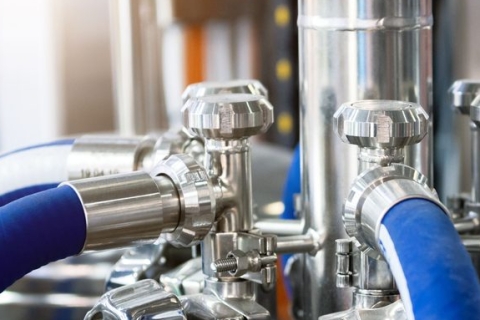 Kent Rubber Supply can provide you with the best sanitary hose and fittings in the industry. As 3-A class approved sanitary hose assemblers, we have a wide selection of sanitary equipment, including sanitary hose, fittings, valves, bulk hose, clamps, and everything else you need to keep your operation running smoothly. From specialized silicone for pharmaceutical needs to hose covers and assembly, we have the ability to provide effective solutions for the always changing needs of our customer base. We have assembly sizes ranging from 0.5 inches to 6 inches, and also have reusable 4 inch Saint-Gobain hose fitting assemblies available that will save both time and money from not having to replace them as often. In today's post, we will discuss the sanitary hose and fittings we can provide for your business needs.
Get Hose and Die Cut Gaskets Customized to Your Specifications
Established in 1946, Kent Rubber Supply has nearly 80 years of experience supplying customers in Southwest Michigan and throughout North America with the most reliable custom molded rubber products in the industry. We can deliver anything from hoses and bumpers to seals, O-rings, grommets and much more with a high standard of quality and made to your precise specifications. We have built strong, lasting relationships with many of our clients, and we will work diligently to do the same with your company. Click here to learn more about the wide range of products available from Kent Rubber Supply.
Get Greater Benefit Through Our Supply Chain Efficiency Program
Not only can we provide you with the best sanitary hose and fittings in the industry, but we can also provide you with superior service through our supply chain efficiency program. We can make every product we supply to meet original equipment manufacturer requirements to ensure quality and reliable delivery. We have the ability to manage several of your SKUs, helping us keep you properly stocked and deliver the parts your production schedule needs when you need them. We can even package or kit the parts you need to help control shipping costs. With our many domestic and global alliances, we can help provide you with the quality products you need at the best prices on the market, further helping your bottom line. We are proud to provide our products and services to clients throughout Michigan, including Holland, Grand Rapids, Kalamazoo, Battle Creek, Lansing, Detroit, and points in between, so feel free to contact us and let us know how we can assist with your sanitary hose and fitting needs.