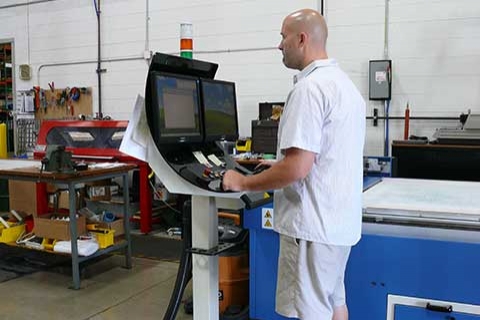 In addition to the numerous rubber products we offer, Kent Rubber Supply can also provide you with a wide range of services to help keep your business productive and efficient. Our dedicated professionals will work closely with you to ensure that you are completely satisfied with our services, so feel free to contact us with any questions about the services we offer. Read further for more information about some of the ways in which we can serve you.
Supply Chain Efficiency Program
Kent Rubber Supply can help maximize your supply chain performance with products that all meet OEM requirements. This means that we can manage many of your SKUs, allowing us to maintain an inventory and meet your production demand requirements. This helps us keep production and shipping costs under control.
Gaskets and Seals
We have the ability to make custom rubber gaskets and seals with a strict attention to detail to make sure they meet your exact specifications. We can make products with several materials, including rubber, sponge, foam, Teflon, non-asbestos, and urethane. No matter how big or small your order is, you can rest assured that we will provide you exactly what you need at an affordable price.
Hose Testing
We have the latest test equipment that our specialists use to make sure that your hoses are leak proof and installed correctly. We can even provide you with the test results, so you can see, firsthand, how well your hoses are functioning well.
Automatic Shape Acquisition System
We have an IntelliScanner Shape Acquisition System that can acquire geometric data from cardboard models, paper patterns, or pre-cut components, like gaskets, more efficiently than the traditional computer mouse pointer methods.
Custom Molded Rubber
With more than 70 years of experience, Kent Rubber Supply can make and deliver custom hoses, bumpers, seals, O-rings, grommets, and extrusions that are made to your exact specifications.
PPAP
We are certified for multiple types of PPAP testing for standard dimensional warrants to level 5, to ensure your custom products will perform properly.
Material Testing and Selection
We have the equipment for testing that can provide application assessments and the gauging for gaskets and other rubber products. We can also test any in-stock products, neoprene orders, FDA nitrile, hi-temp silicone, gum rubber, and sponge.
Prototyping
We can assist you through every step of the prototyping, from the design phase through selecting the right material and finally, using our dieless flash cut machine to produce the prototype. This process will save you money and ensure the product will function properly before production begins.
Die Cutting
Through multiple die cutting presses, we can create gaskets, seals, and hoses with a wide range of materials from your initial concept drawing.