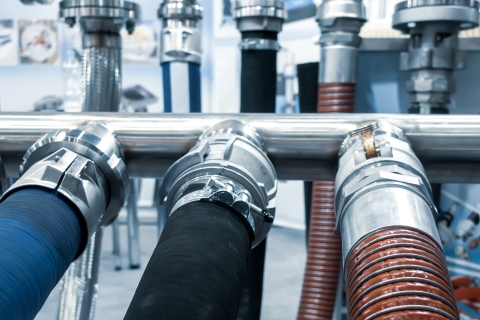 When your business needs fluids like gas, oil, water, or others moved from place to place, you need to make sure that all of the hoses involved are tightly sealed to avoid any problematic leaks. These leaks are problems that you simply cannot afford to deal with, so get peace of mind from Kent Rubber Supply with crimpnology services by Campbell Crimpnology. Crimpnology is a process that is specifically designed to make sure that hoses and fitting attachments are sealed as tightly as possible to not only avoid any leaks, but to also maintain the level of pressure you need in your lines to keep your operation running smoothly. The discipline of crimpnology was developed by the team of experts at Campbell to maximize retention rates for a safer, more efficient transfer of fluids at your facility. Read further for more information about how crimpnology can be a benefit for your business.
Increase Safety While Reducing Waste
Most importantly, crimpnology results in tighter seals, which will keep any liquids secured. Not only will you benefit from a reduce in waste, but worker safety is increased with a decreased risk of leaks and spills from the rubber hoses in your facility. Employee injuries not only affect your company's production, but it affects the employees' families, as well. Crimpnology is a great step to take to keep machinery working properly and ensuring the safety of your workforce. Fewer accidents mean fewer delays and increased efficiency to keep your operation running smoothly and profitably. You employees are the life blood of your organization and the people you count on for your business success. Allow your employees to complete their work without having to worry about messy, dangerous leaks, increasing their chances of success.
How to Start with Crimpnology
You may be skeptical about adding a new process like Crimpnology to your operation, but when you work with Kent Rubber Supply and the folks at Campbell Crimpnology, the process is smooth and stress-free. No matter what sort of assistance or support you require, we are always just a quick phone call away to help you out. We will make sure you are completely comfortable with the process, so it becomes second nature.
Kent Rubber Supply is your number one source for industrial hose and custom hose products, no matter what sort of industry you are in. Working closely with Campbell Crimpnology, we can ensure that all of those custom hoses are sealed properly for maximized efficiency and safety. For more information about how crimpnology can benefit your business, call us today!