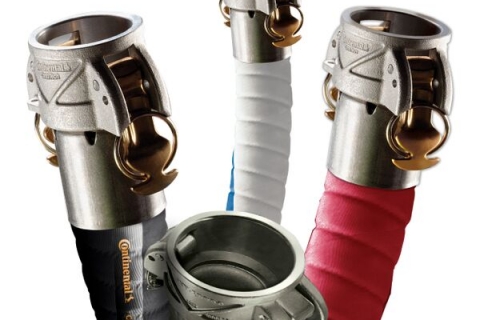 Kent Rubber Supply can produce and supply a wide selection of custom rubber products to customers in the greater Grand Rapids area and throughout North America. For 75 years, we have supplied the best possible products to our growing client base with a focus on maintaining a high standard of quality and consistently improving or processes to remain industry leaders. From hoses and fittings to gaskets and seals, we can provide you with the custom rubber products you need, no matter which industry your company is in. Read further to learn about the products we supply and the industries we serve.
Quality Hydraulic Hose and Fittings
As an industry leader in fabricating and distributing custom hydraulic hose, Kent Rubber Supply works diligently to meet the constantly changing demands of the market. Featuring the Eaton Aeroquip Triple Crown product line, we can handle your custom hydraulic hose needs from low to high pressure applications. We also carry specialty hoses needed for railroad airbrakes, A/C refrigeration hoses, Synflex thermoplastic hoses, and many others. We also have the wide selection of hydraulic hose fittings to ensure you get a tight, leak-free fit, no matter what industry you are in.
Industrial Hose for All Your Needs
When it comes to industrial grade hosing, you simply cannot cut corners on inferior products. You need to trust the respected professionals at Kent Rubber Supply to make sure you get the quality industrial hose that is perfect for your company's specific needs. We can provide quality industrial hose for a number of industries, including petroleum, material handling, welding, chemical transfer, and more. Get the best industrial hoses and fittings for your business at prices that will keep you within budget.
We Supply Sanitary Hose and Fittings
For some industries, like the medical field, sanitary hose and fittings are crucial to ensuring that the equipment runs properly without the hose being compromised. Kent Rubber Supply has you covered. With a full selection of hose, fittings, valves, filters, and several other options, we can get you the specific products that will meet your needs. We take great pride in providing only parts that meet our high standard of quality.
Kent Rubber Supply are industry leaders in providing hydraulic hose and fittings to clients throughout Southwest Michigan and North America. Our experienced professionals will help you find everything you need, so contact us and let us know what we can do for you today.