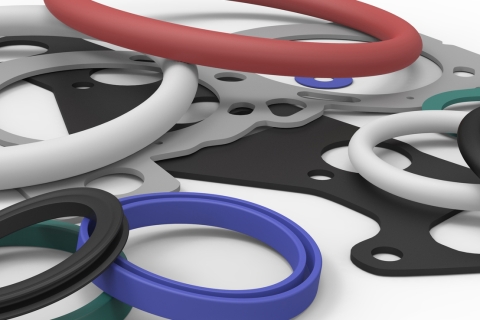 Kent Rubber Supply has been providing customers in Southwest Michigan and throughout the United States with the best in custom rubber hoses for more than 75 years. Whether you need hose for the medical, food and beverage, agricultural, or any other field, you can count on our experienced staff to work closely with you and get you the high quality products you need to keep your operation running smoothly. We have worked hard to build and maintain strong working relationships with our client base, helping us understand what they need for their continued success, including assemblies, fittings, gaskets, seals, and more. For more information about how Kent Rubber Supply can help with all your custom rubber hose needs, please read further.
Custom Rubber Products at a High Standard of Quality
No matter what industry your business is in, Kent Rubber Supply can make sure your machinery and equipment are outfitted with the very best in custom hose, gaskets, seals, or anything else you need to keep your operation running smoothly and safely. We have high quality standards, so you and your employees can rest easy knowing that the parts you receive from Kent Rubber Supply will perform exactly the way you need them to. We also have a full line of hose fittings, hose couplers, and hydraulic fittings to make sure your custom hose is properly sealed for everyone's safety and to protect your bottom line. Do you have an older machine that makes sourcing replacement hoses difficult? Just get us the specifications, and we can provide you with effective alternatives at affordable prices.
Hoses Tested Up to 21,750 PSI
Having the right sized hose for your job does you no good if that hose literally cannot withstand the pressure. This is why Kent Rubber Supply takes extra measures to ensure that your custom hose has no deformities or leaks that could result in performance issues that could result in interruption to your day to day operation and even injuries to your employees. We have the capability to proof and burst test custom hose up to 21,750 pounds per square inch, and we can repeat pre-programmed test sequences as many times as necessary to ensure the quality of our products. We can even provide you with the results either in print form or in digital form on a USB flash drive. For more information about how we can assist with your custom hose needs, contact Kent Rubber Supply today!